Meet the Senior Team
Mr Mike Farmer – Executive Head
Mike Farmer joined St Teresa's in September 2012. He began his career teaching Economics and Business at the Godolphin School in Salisbury, taking up the position of Assistant Head at Headington School in Oxford in 1997. In 2003 he was appointed Principal of Kilgraston School in Perthshire. He transformed the school to achieve the highest growth rate within the sector and also topped the Scottish academic league tables. In 2011, Kilgraston gained national recognition by being named the UK Independent School of the Year.
Under Mike's headship, St Teresa's has experienced dramatic growth of 60%, enabling capital investment of over £5m. With a roll of 650 pupils, St. Teresa's is currently the largest Catholic independent girls-only school in the UK.
In addition to Headship, Mike was a member of the governing council for the Girls' Schools Association for many years, and also Chair of the boarding committee. In 2016 he had the honour of chairing the Boarding Schools' Association. He is a Governor of two independent schools and also chairs the advisory board for the Chinese owned company, Achieve Education.
Mike is supported by his wife Mary-Ann who has worked in boarding for many years. They have two grown up children.
Dr Claire McShane – Headmistress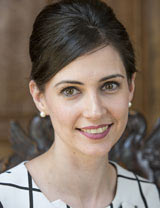 Claire McShane joined St Teresa's in 2013, initially as Assistant Head, and later as Deputy Headmistress. Over the course of her time at the school, Claire has assisted in implementing a vision of dynamic growth and change, including expanding the roll by 60%, and she has a particular interest in the area of academic development and enrichment. She is also Head of Classics, and continues to teach Latin to GCSE and A Level pupils.
After completing her undergraduate degree in Medieval Literature at University College, Oxford, she undertook an M.Phil in Medieval and Renaissance Literature at Queens' College, Cambridge. She began her teaching career at all-boys Merchiston Castle School in Edinburgh, where she simultaneously commenced studying for her PhD on Margery Kempe, the boisterous fourteenth century mystic. Over the course of her career, she has taught English Literature, Latin, Ancient Greek, and Classical Civilisation.
During her third year of teaching, Claire was offered the position of Head of English at all-girls Kilgraston School in Perthshire. It was the transition to a female single-sex environment that confirmed her abiding passion for the education and mentoring of young women in particular.
In her free time, she enjoys the theatre, reading, and learning French. She is married to Matthieu.
Mr Stuart Field – Deputy Head (Academic)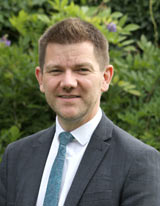 Stuart joined St Teresa's as Assistant Head (Director of Studies) in 2021 before taking on the role of Deputy Head (Academic). After earning his degree in Mathematics and Computer Science from the University of Central Florida, he relocated back to England to pursue a career in teaching.
Stuart teaches Maths and Further Maths to A level and Computer Science to GCSE. He enjoys sharing his passion for these two subjects with his pupils. In his spare time, Stuart enjoys football and running.
Mrs Paula Cawley – Deputy Head (Pastoral)
Having gained a Zoology degree, Paula spent some time in the Seychelles studying the behaviour and conservation of giant tortoises.
She is passionate about helping children to develop a love of science and inquisitive minds. She has worked at several Surrey schools: state and private, prep and senior, single sex and coeducation.
Throughout her career, her mantra has always been that happy children learn best. As the Deputy Head Pastoral and mental health lead she loves working with an extremely talented team of teachers to support the wellbeing of all the girls at St Teresa's.