Effingham Schools Trust
In May 2019 the Governors announced the partnership with Cranmore our neighbouring school, to create a diamond model; the most contemporary education model available, offering the best of single sex and co-ed education to girls and boys.
The new charitable trust is called the Effingham Schools Trust.
Mike Farmer, Executive Director of the Trust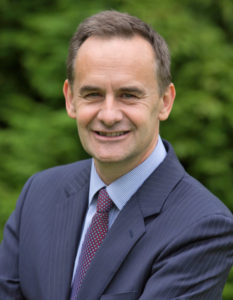 Mike joined St Teresa's in September 2012. He began his career teaching Economics and Business at the Godolphin School in Salisbury, taking up the position of Assistant Head at Headington School in Oxford in 1997. In 2003 he was appointed Principal of Kilgraston School in Perthshire. He transformed the school to achieve the highest growth rate within the sector and also topped the Scottish academic league tables.
In 2011, Kilgraston gained national recognition by being named the UK Independent School of the Year.
Under Mike's headship, St Teresa's has experienced dramatic growth of 60%, enabling capital investment of over £5m. With a roll of 650 pupils, St.Teresa's is currently the largest Catholic independent girls-only school in the UK.
In addition to Headship, Mike was a member of the governing council for the Girls' Schools Association for many years, and also Chair of the boarding committee. In 2016 he had the honour of chairing the Boarding Schools' Association.
He is a Governor of two independent schools and also chairs the advisory board for the Chinese owned company, Achieve Education.
Mike is supported by his wife Mary-Ann who has worked in boarding for many years.
They have two grown up children.