Meet the Headmistress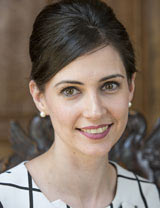 Claire McShane joined St Teresa's in 2013, initially as Assistant Head, and later as Deputy Headmistress. Over the course of her time at the school, Claire has assisted in implementing a vision of dynamic growth and change, including expanding the roll by 60%, and she has a particular interest in the area of academic development and enrichment. She is also Head of Classics, and continues to teach Latin to GCSE and A Level pupils.
After completing her undergraduate degree in Medieval Literature at University College, Oxford, she undertook an M.Phil in Medieval and Renaissance Literature at Queens' College, Cambridge. She began her teaching career at all-boys Merchiston Castle School in Edinburgh, where she simultaneously commenced studying for her PhD on Margery Kempe, the boisterous fourteenth century mystic. Over the course of her career, she has taught English Literature, Latin, Ancient Greek, and Classical Civilisation.
During her third year of teaching, Claire was offered the position of Head of English at all-girls Kilgraston School in Perthshire. It was the transition to a female single-sex environment that confirmed her abiding passion for the education and mentoring of young women in particular.
In her free time, she enjoys the theatre, reading, and learning French. She is married to Matthieu.